Kathy Cooper Ashtanga Workshop, June 7th-11th, 2017.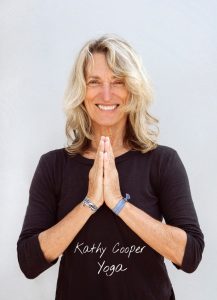 Kathy is an Ashtanga Yoga teacher of the first generation and has been practising consistently for 40 years. David Williams and Nancy Gilgoff were her first teachers. Kathy is one of the very few people to have completed all of the advanced series. She studied with Guruji (Sri K. Pattabhi Jois) many times over the years in the US and in Mysore, India. Having lived with Ashtanga for all of her adult life, Kathy has a deep understanding of the benefits of the practice. She is renowned for her warm, encouraging and open approach to teaching, working with students as individuals, whatever their life stage and body type.
"Kathy is someone who is filled with a balanced light of both broad loving energy that feeds the soul and that burning single-pointed ekagrata shiva energy that is capable of building cities (and tearing them down). She expresses a lifetime of accumulated wisdom that facilitates her open fearlessness. She exemplifies living our yoga." a student from Portland, Oregon
TIMETABLE
Wednesday 7th, Thursday 8th, Friday 9th June
8am-11am
Mysore-style Ashtanga Practice (2 start times)
Saturday 10th June
Led Primary, Technique workshop & Seminar & Q&A
9am-1pm
Sunday 11th June
9am-1pm
Mysore-style Ashtanga Practice (2 start times), Technique workshop & Seminar & Q & A
Cost
Full 5 day, 7 session workshop: €225. EARLY BIRD price of €195 available to March 31st.


Saturday Led class & seminar: €75

Sunday Mysore class & seminar: €75


Two Weekday Mysore classes: €75


Three Weekday Mysore classes: €105


Ashtanga Mini-Intensive with Ingrid Jaanisoo, Sunday, May 14th, 2017, 12pm-2pm
This 2 hour Sunday afternoon workshop will act as a mini-intensive to take you deeper into your Ashtanga practice. It will cover:
Working towards Lotus: how to safely and slowly open the hips
Switching on the Bandhas: techniques to help engage the internal energy locks that will bring more lightness and energy to your practice.
Tips and techniques to help you access and/or modify some commonly challenging asanas (postures).
Pranayama (breathing techniques)
You'll also be able to ask Ingrid for help with any particular challenges you face with your practice, and you'll finish the session with a beautiful Yoga Nidra (guided meditation) which will leave you floating home, relaxed, refreshed and informed!
Goddess Yoga For Women's Health & Vitality, Saturday May 13th, 2pm-5pm
A 3-hour class designed to maintain and support the following: Flexibility; Bone Strength; Pelvic Position; Menstrual Health; Hormone Balance; Pregnancy; Fertility; Muscle Tone; Posture; Mindfulness & Deep Relaxation…. Energetically, we invite Goddess Energy in the form of Shakti (Deep Feminine / Pure Energy) to awaken our creative spark and bring us into connection with our own intuition and natural joy.
The class will include:
Somatic practices to release muscle tension and correct muscle tone
Fluid movement to juice up blood flow, keeping organs healthy
Supportive practices to maintain uplift of pelvic organs
Weight-bearing to strengthen bones & improve bone density
Breath-work and powerful relaxation practices to promote hormone balance
Creative activity to connect with the intuitive deep feminine.
For all enquiries and bookings relating to this class, please contact Áine directly at aineni.fortune@gmail.com