Greystones Yoga Studio is open 7 days a week.Check our timetable for a time and class that suits you or call us on 086 309 8418

Weekend Yoga
SATURDAY
9am-10:15am – Ashtanga Led 
10:30am-11:45am – Vinyasa Flow 
SUNDAY 
9am-11am – Guided Mysore-style Ashtanga 
News
Please note: Monday 8pm class suspended due to teacher holidays – places available in 6:30pm class on Mondays
Men's Yoga Wednesdays, 8pm-9pm BOOK NOW
New Beginners' Yoga 6 week course starts Tuesday, May 17th.  BOOK NOW
Kids' Yoga ages 7-11, new course starts Thursday, May 5th,  3:30pm-4:30pm
ONLINE PAYMENT now at GYS. Buy your Class Pass, Single Class or Course on the Costs Page
Please Note:  HATHA YOGA with Niamh Daly, Wednesdays, 10:30am is an independent class not included in GYS passes or introductory month offer. Contact Niamh directly on 0879506923 or niamhdaly55@gmail.com to book.
Enhancing Your Ashtanga Practice", with Ingrid Jaanisoo, Saturday May 28th, 12:30pm-2:30pm.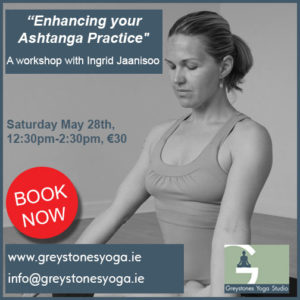 A workshop for all levels of Ashtanga practitioner, focusing on core, hips and the fundamentals that make for a more beneficial practice. See workshops page for details and to book.