Greystones Yoga Studio is open 7 days a week with classes in Ashtanga Yoga, Vinyasa Flow, Yoga Flow and Kids' Yoga. Check out our timetable for a time that suits you or call us on 086 8542741

Acu-Yoga with Orla Fitzgerald, Sunday April 19th. LAST FEW PLACES AVAILABLE – Booking details below: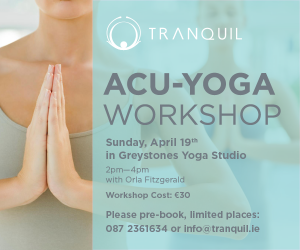 Guy Donahaye, 5 Day Ashtanga workshop, July 2-6, 2015. See workshops page for details

News
Introductory Offer: €79 UNLIMITED YOGA, 7 days a week for 1 month – see costs page for details – a great way to get started!
NEW! "Early Bird Yoga" – a Tuesday 7am-8am led Ashtanga class that will kick-start your day and introduce you to the Ashtanga sequence. Starts Tuesday, 6 January – all levels welcome.
NEW MINDFULNESS, MEDITATION & RELAXATION classes with Yvonne Lucas,  6:15pm and 9pm Thursdays, 10am Tuesdays. 30% discount for GYS members. Please book directly with Yvonne on 086 814 2293 or email releaserelaxation@gmail.com
Weekend Yoga
SATURDAY
9am-10:15am – Ashtanga with Ingrid Jaanisoo
10:30am-11:45am – Vinyasa Flow with Orla Fitzgerald
SUNDAY 
9am-11am – Ashtanga Vinyasa Self-Practice with Ann Macken
11:30am-12:45pm VInyasa Flow Class with Cormac