Check our timetable for a time and class that suits you or call us on 086 854 2741

Weekend Yoga
SATURDAY
9:30am-10:45am – Ashtanga Led (continues through summer)
SUNDAY 
9am-11am – Guided Mysore-style Ashtanga (last class before summer holidays is July 24th)
News
6, 10 and 20 class passes now valid for 4 months from date of purchase.
August Timetable: 2 classes only weekly, Tuesday 7:15pm and Saturday 9:30am.  All levels welcome. See timetable for full September schedule – booking open now for new courses.
Kids' Yoga, Men's Yoga and Ashtanga Beginners' Courses all starting in September – it's  a busy time and places are limited so check the timetable and  book your place now
ONLINE PAYMENT now at GYS. Buy your Class Pass, Single Class or Course on the Costs Page
Please Note:  HATHA YOGA with Niamh Daly, Wednesdays, 10:30am is an independent class not included in GYS passes or introductory month offer. Contact Niamh directly on 0879506923 or niamhdaly55@gmail.com to book.
Kathy Cooper Ashtanga Workshop, August 21st-25th, 2016.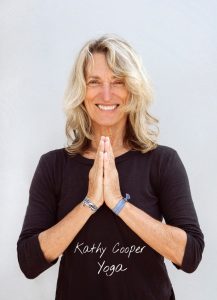 Kathy Cooper will join us from San Francisco for a 5 day visit to Greystones Yoga Studio from August 21st to August 25th. You can participate in all or part of the workshop. Find out more and book your place.
"GET STARTED WITH ASHTANGA" workshop with Ingrid Jaanisoo, Sunday, September 11th, 12:30pm-2:30pm, €35 (price includes 2 follow-up Ashtanga classes)
In this 2 hour workshop, Ingrid will introduce you to the huge benefits of this dynamic, flowing and transformative style of yoga.The workshop is ideal for absolute beginners as well as anyone looking to get back on the mat after a break. Cost is €35 and includes two further Ashtanga classes which you can take anytime in the 2 weeks after the workshop. Find out more and book your place.